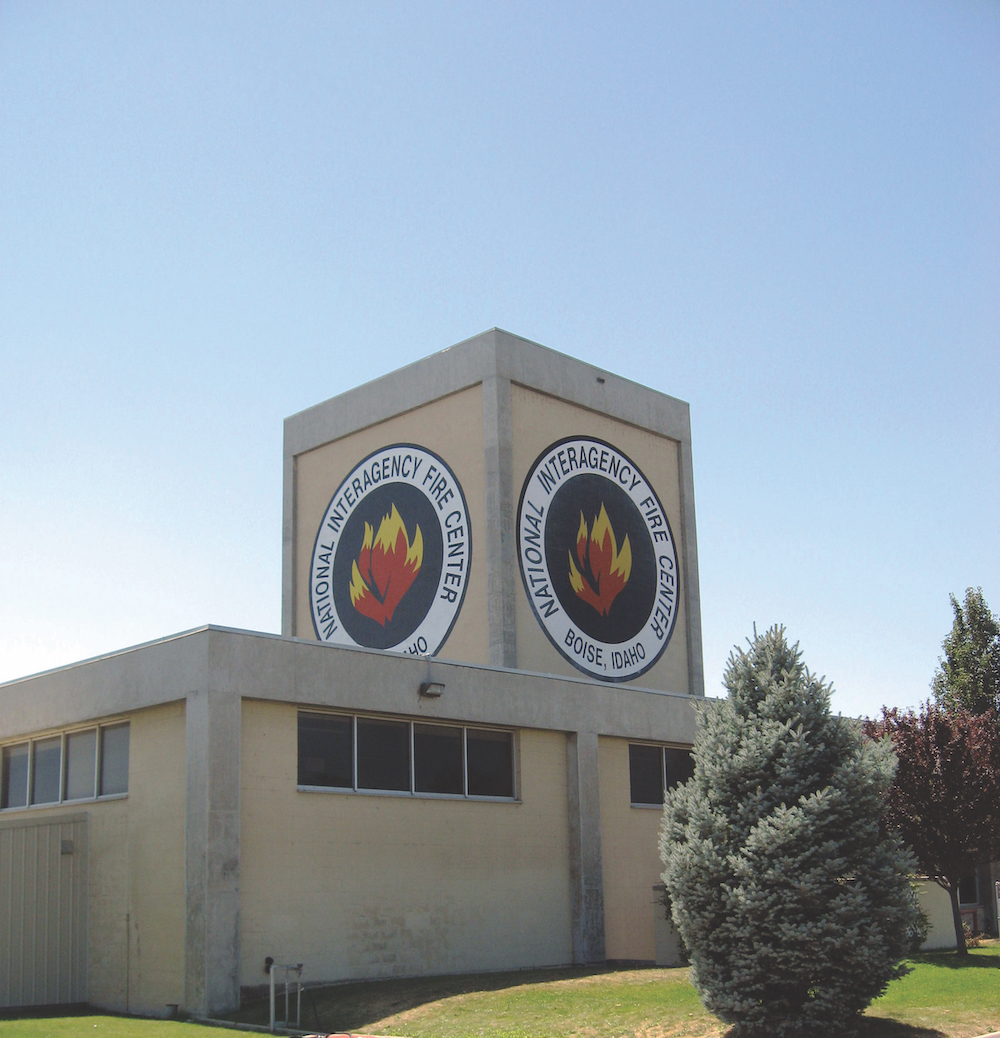 A first impression may be underwhelming: a collection of drab-colored concrete, stone slab and steel buildings scattered across 50-plus acres of fenced grounds. Aside from the large and colorful National Interagency Fire Center (NIFC) logo adorning the tower at the smokejumper loft, and perhaps the white dome behind the National Weather Service building, there is little outwardly apparent to distinguish any part of the facility.
But the visual impression is deceiving. Behind the flat exterior walls bearing routine signs indicating such things as "Equipment Shop," "Acquisitions," or "Warehouse," there is life and work as diverse, as colorful, and as important as any to be found anywhere.
There is the National Interagency Coordination Center, a command hub where teams, crews, aircraft, engines, equipment and other resources are mobilized quickly from coast to coast and occasionally to Canada or Australia. There is the radio cache, the largest civilian radio cache in the world, capable of providing communication support to 32,000 firefighters and more than 50 major incidents at one time.
There also is the training branch, where specialists develop interagency and state-of-the art training for use across the nation and around the world. There is the Remote Automated Weather base, the management and maintenance home to more than 2,000 nationally dispersed remotely located stations that automatically measure weather conditions, and at some sites even fuel and soil moisture content, and transmit that data via satellite back to NIFC.
There is the Predictive Services group, where weather and wildland fuels data is turned into forecasts that are critical for fire managers. There is the Great Basin Cache, the largest of 11 supply storehouses strategically located across the country, and its partner, the Returns Warehouse, where tools and equipment are refurbished. There are fire and fuels management planners, operations chiefs, fire scientists, and more.
The National Wildfire Coordinating Group (NWCG) also is based at NIFC. The NWCG provides national leadership to enable interoperable wildland fire operations among federal, state, local, tribal, and territorial partners. The efforts of this group contribute to safe, effective, and coordinated national interagency wildland fire operations.
NIFC is a place. But it's far more than a collection of buildings. It is the epitome of interagency cooperation and collaboration. It's the energy of nearly 600 employees, representing eight separate federal and state agencies, engaged in multiple aspects of the same mission: to develop national wildland fire policy and lead in its implementation; and to serve as the logistical and support center for the nation's wildland fires and, at times, other national disasters and emergencies.