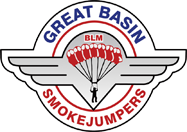 Smokejumpers are unique because of the way they reach the fireline: they parachute from an airplane 3,000 feet above the ground. When wildfires ignite in remote and isolated locations, smokejumpers are able to reach them fast – because they can parachute to wildfires when there are no roads or trails nearby – and get to work long before anyone could hike or drive to the fire.
Smokejumping is a physically and mentally demanding line of work that requires a broad knowledge of firefighting. Smokejumpers are also heavily involved in prescribed fire management and hazardous fuels reduction efforts.
Smokejumpers are experienced wildland firefighters with expertise in initial-attack firefighting and working with a variety of aircraft.
First-time "rookie" smokejumpers go through an intense training regimen that covers aircraft and parachuting. They also become experts in many other tasks, including tree climbing, aerially delivered cargo, tree cutting, parachute equipment manufacturing and prescribed burning.
To learn more about the parachute, take a look at this Story Map about the history and design of the Ram-Air parachute for the BLM Smokejumpers.
BLM Great Basin Smokejumpers