National Interagency Coordination Center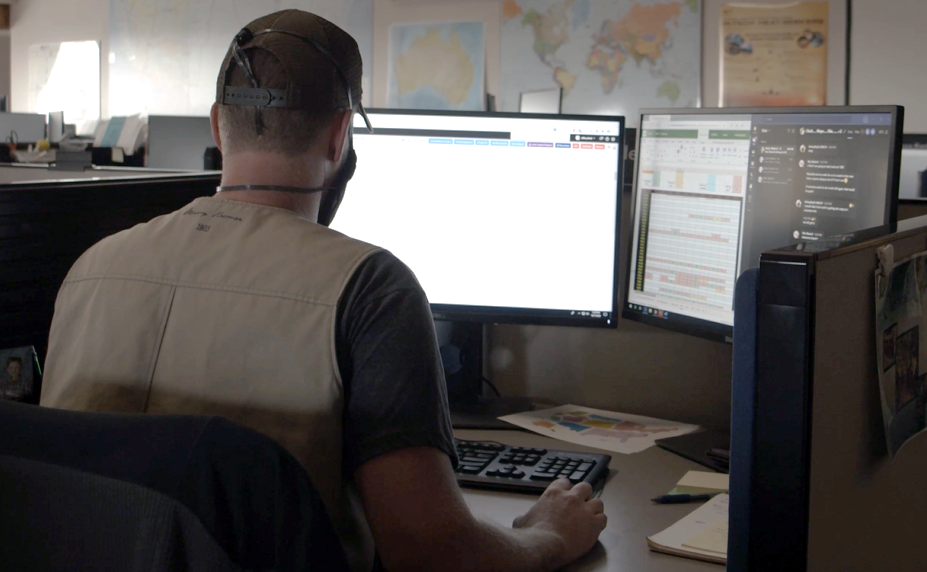 Wildland fire suppression is based on an extensive network of dispatch offices, firefighters, support personnel, incident management teams, aircraft, equipment and supplies. At the core of this multi-layered and elaborate system is the NICC. In a large, softly lit room on the second floor of the Jack F. Wilson building, specialists work around the clock during the peak of the wildland fire year to locate and mobilize the closest resources for the most efficient and rapid response to wildfires across the country. Through the years, NICC's mission has expanded to support virtually any type of natural resource emergency. 
Let's take a closer look at how resources get to where they're needed. The national dispatch and coordination system has three tiers for resource ordering. The first level consists of about 250 local dispatch centers scattered throughout the nation. When the needs of a wildfire or other emergency become more than local dispatch offices can handle, they turn to the next level up, one of ten Geographic Area Coordination Centers (GACC) to fill the needs. Between the local dispatch offices and GACCs, tens of thousands of wildfires are coordinated and the needs of fire managers are met. 
If individual wildfires or overall activity becomes more than a GACC can manage, NICC is called in. NICC has authority for the entire country. That could mean mobilizing a state crew in Alaska for deployment in Florida or sending a helicopter in Arizona to a wildfire in Utah. NICC's work ranges from the individual – say a finance expert in Montana dispatched to a wildfire in southern California – to moving hundreds of firefighters from one location to another. A vast amount of information is needed to locate, track, monitor and help with arrangements for equipment, aircraft, teams of wildland fire specialists, contract crews, engines and more. In 2018, for example, which was a year of high fire activity, more than 30,000 firefighters were mobilized. 
In the most difficult times, at Preparedness Level 5, when requests are unable to be filled, NICC may call on international partners to share fire resources. NICC has standing agreements with the governments of Australia, Canada, Mexico and New Zealand. 
NICC also bears the daunting responsibility for setting national priority for heavy airtankers, leadplanes, smokejumpers, interagency hotshot crews, incident management teams, light, medium and heavy helicopters, infrared aircraft, military resources, telecom equipment, Remote Automatic Weather Stations and large transport aircraft. 
NICC plays a critical function in monitoring, mobilizing and managing all wildland fire resources, along with setting priorities, in the most cost-efficient manner. Through the years, NICC personnel have shown they're more than capable of meeting the challenge.
NIFC Virtual Tour: National Interagency Coordination Center