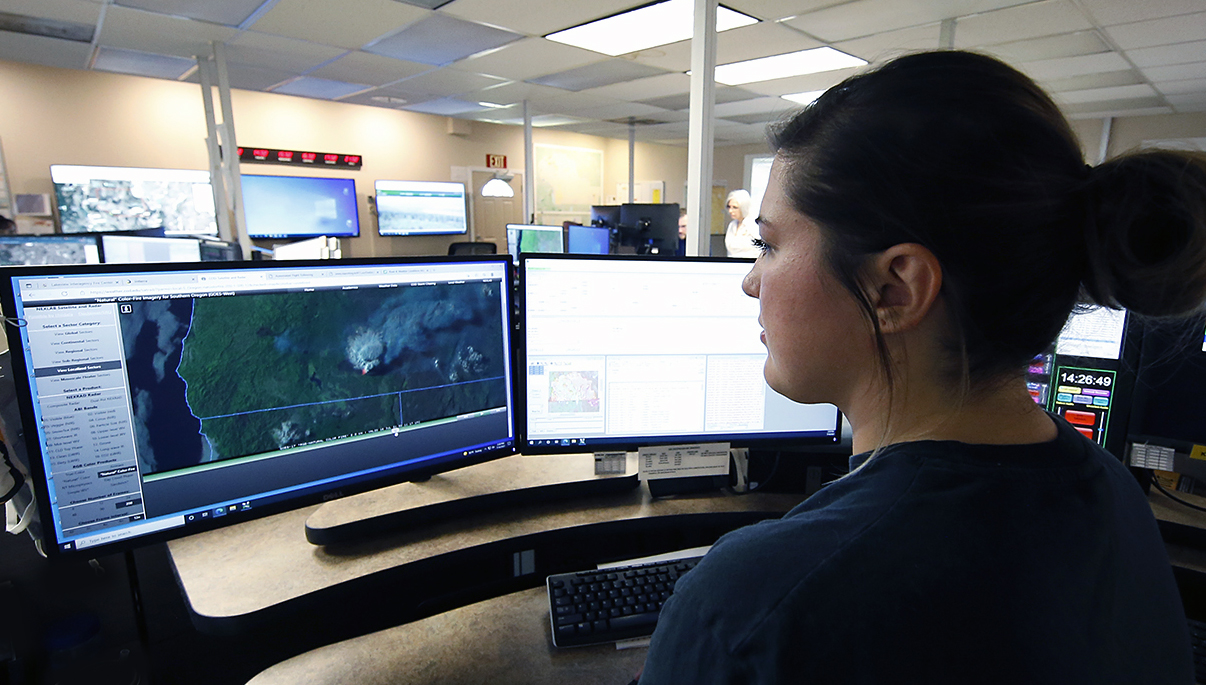 Modern technology offers exciting new ways to gather and share information about wildland fires. The Department of the Interior and the U.S. Forest Service lead the effort to consolidate and develop technology that gets wildland fire managers the information they need to make critical decisions. This venture is known as the Wildland Fire Information and Technology Program (WFIT).
What WFIT Does
The WFIT team works with leadership, subject matter experts, and other stakeholders to understand how technology can best serve the entire wildland fire community. By taking an all-inclusive view of the business of wildland fire, WFIT can provide the technology fire managers need to do their jobs independent of their agency affiliation or location.
Applications
The WFIT program oversees an incredible range of applications related to wildland fire. These applications serve purposes like warehouse inventory control, planning for prescribed fires, dispatch, managing/sharing incident information, tracking firefighter qualifications, and more. The list below includes a few of the major applications currently in use and in development. View a more complete list of applications on the WFIT website.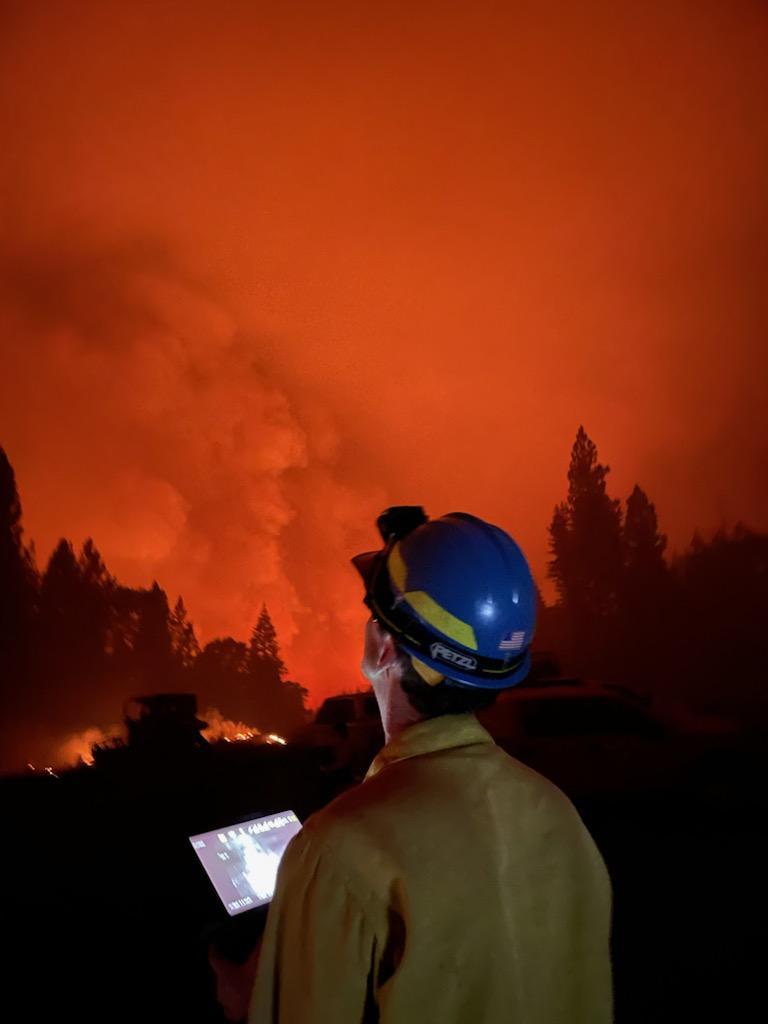 Technology used on the Dixie Fire, Lassen National Forest, in California.
Interagency Resource Ordering Capability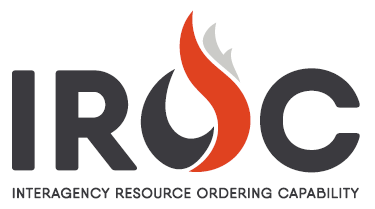 The Interagency Resource Ordering Capability (IROC) is a dynamic, modern, flexible and scalable application that aligns with interagency business needs for resource ordering for all hazard incidents. IROC enables fire managers to request fire personnel and equipment and track where they're located.
IROC provides the Dispatch Community with a fast and stable system that works well at all levels of activity. It also is web-based and supports  both desktop computers and mobile devices. Learn more by visiting the IROC website.
Interagency Fire Occurrence Reporting Modules (InFORM)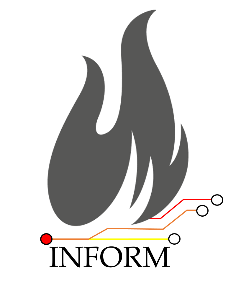 InFORM provides a single, nationwide system of record for both federal and state agencies to report wildfires. InFORM eliminates redundant data entry, improve the quality and completeness of fire data, and make it easier to access.
InFORM is comprised of three applications:
Survey123 is a great tool for non-federal and tribal agencies, because it allows users to submit incidents to IRWIN without WildCAD. When run from a GPS-enabled cell phone or tablet at the fire scene, Survey123 can automatically capture the fire's location as a point. Point data can be entered to initiate the record only or expanded to meet the data needs of a final fire report.

Collector is the best tool for submitting polygon data on smaller fires. Collector can be used on a GPS-enabled cell phone or tablet to capture a perimeter for any incident reported through IRWIN.

Inspector is a web-based application that users can view, edit, and input fire report data directly into the IRWIN environment. Under normal circumstances, most of the data in a fire report will have been entered through upstream applications, such as WildCAD and FAMWeb209. Inspector is used to review and edit that data, complete all required data fields, and certify the report as "final." Inspector replaces fire occurrence reporting systems for federal agencies.
For more information about InForm, visit the application website. To report issues or provide feedback, email the InFORM team. 
Fire Enterprise Geospatial Portal (EGP)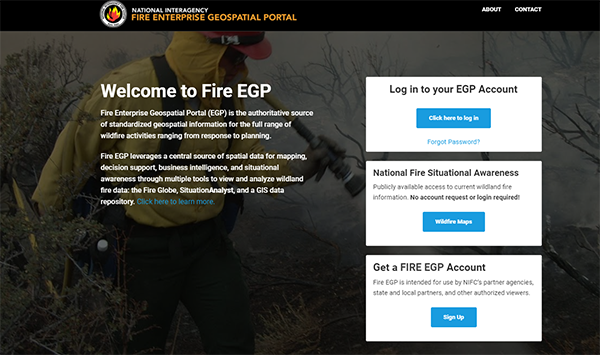 EGP provides standardized geospatial information for the full range of wildfire activities ranging from response to planning and leverages a central source of spatial data for mapping, decision support, business intelligence, and situational awareness.
There are currently five components within the EGP:
Fire Globe–2D & 3D situational awareness views using multiple clients.
Geospatial Dashboard and Analysis Tool (GDAT)–a simple business analytics tool that utilizes GIS.
SituationAnalyst (SA)–tool combining collaborative mapping, geospatial and imagery analysis, with analytical reporting.
Fire EGP Data–static and dynamic data available for use in any of the viewers
FLIGHT–data collection and reporting on aviation use and cost.
The information within the EGP provides first responders, wildland fire management personnel, dispatchers, and coordination centers with access to up-to-date wildland fire situational data including fire perimeters, weather, fire detections, currently assigned resources, and the availability of other resources. The EGP and its components support the implementation of the cohesive strategy in wildland fire management by bringing data and cooperating partners together. Learn more about EGP on the application website.

ArcGIS Online Organization
The National Interagency Fire Center curates an ArcGIS online organization to provide a common online location for mapping during:
Active and upcoming wildland fire incident response
Planned and on-going prescribed fires
Fuels treatment planning and data collection
Fire planning and data sharing for wildfire response
Visit the ArcGIS Online page to request support or create a new account. 
Wildland Fire Open Data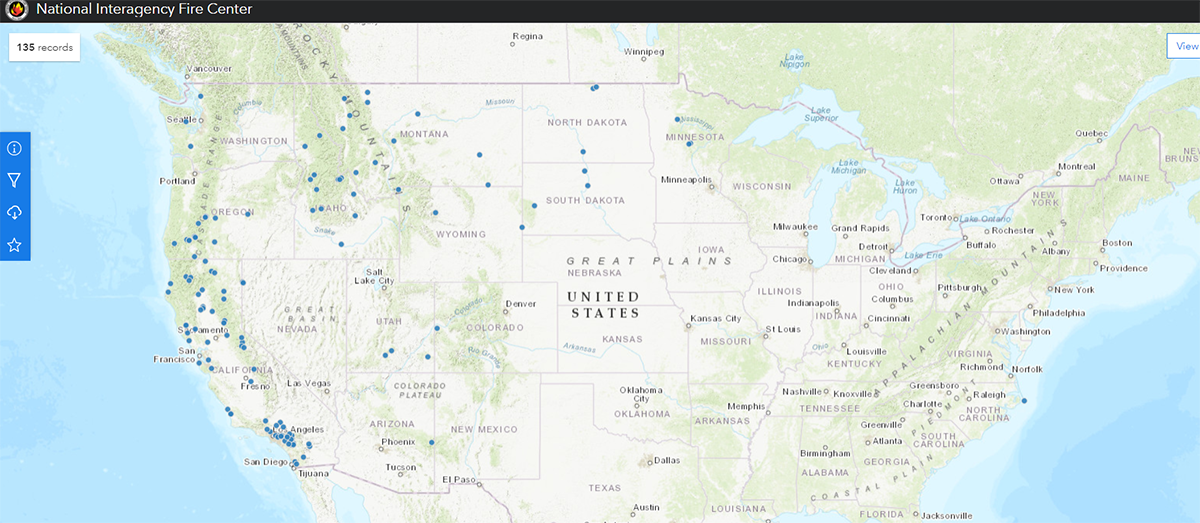 The Wildland Fire Open Data site provides fire perimeter maps to the public. It replaced GeoMAC in May 2020, and was initiated to better share maps and data related to wildland fire activities across the country with all agencies and the public. This application has become the go-to source for fire perimeter maps and has been used more than three billion times since it was launched. 
Visit the Wildland Fire Open Data website and take a look at the Using Wildland Fire Interagency Geospatial Services video to learn more. If you have questions or comments regarding the site, please fill out this form: NIFC Open Data Site Support Request Form.
Using Wildland Fire Interagency Geospatial Services

Integrated Reporting of Wildland Fire Information
Integrated Reporting of Wildland Fire Information (IRWIN) facilitates the exchange of data between many existing wildland fire applications in a way that reduces redundant data entry and improves data consistency, accuracy, and availability. The latest version of IRWIN focused on the integration of resource data (i.e. the location/status of aircraft, engines, and crews). This integration included applications like IROC, several computer-aided dispatch systems, both qualification systems, and "Roll Call," a new IRWIN-created tool used to manage the status of tactical resources. This update assists with decision making by allowing fire managers to see resource commitment levels across agency boundaries.
Incident Qualifications and Certification System (IQCS)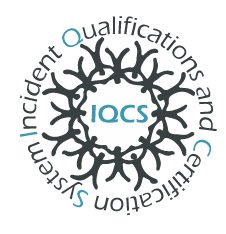 IQCS is an interagency information system that tracks responder incident qualifications for the federal partners of the National Wildfire Coordinating Group (NWCG), the Department of Interior (DOI) bureaus, the United States Air Force and the United States Army. For more information visit the IQCS website.
BLM Wildland Fire Management Information (WFMI)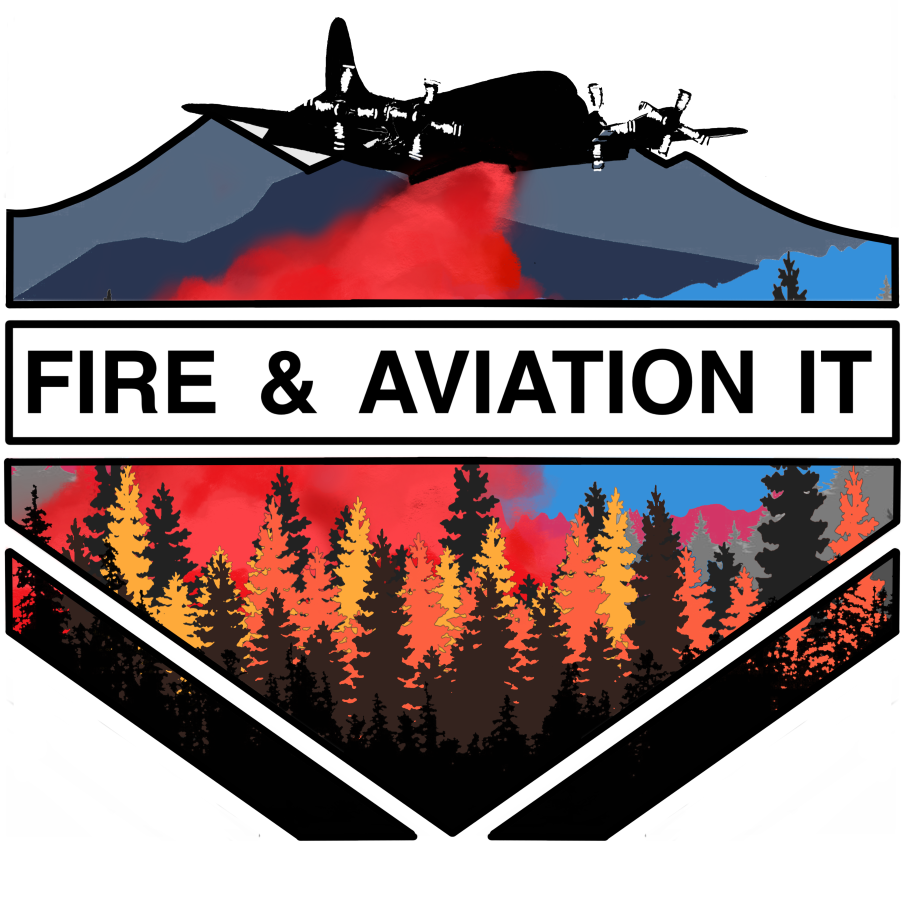 The Wildland Fire Management Information (WFMI) web-site is designed to support wildland fire organizations by providing current weather and lightning data, as well as historic fire occurrence data. In addition, the NWCG unit identifiers are maintained on WFMI.
WFMI consists of the following modules:
Weather
The WFMI Weather module provides access to the weather data that is transmitted from the more than 2500 Remote Automatic Weather Stations (RAWS) located throughout the U.S.
 
Lightning
The WFMI Lightning module provides access to lightning strike data for the continental U.S. in a map format, a data format suitable for import into Geographic Information Systems (GIS), and in a format for viewing with Google Earth.
 
Fire Reporting
The WFMI Fire Reporting module is the system-of-record for the fire occurrence data for the Bureau of Indian Affairs (BIA), the Bureau of Land Management (BLM), the Bureau of Reclamation (BOR), and the National Park Service (NPS).
 
Unit Identifiers
The WFMI Unit Identifiers module is the system-of-record for the NWCG unit identifiers, which are the codes that are used to uniquely identify the organizational units within the federal and state government that are involved in wildland fire management.
Interagency Incident Application Help Desk