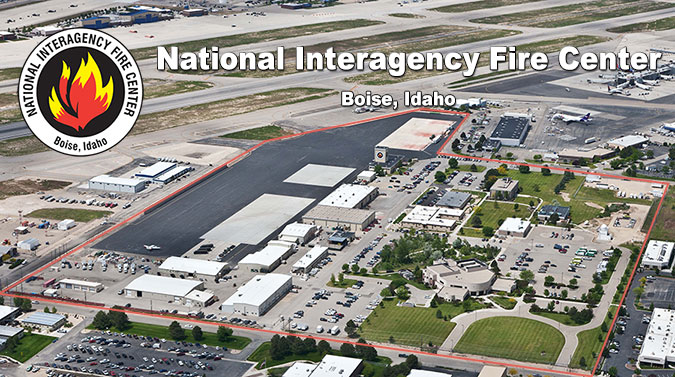 The National Interagency Fire Center (NIFC) campus is located in Boise, Idaho adjacent to the Boise Airport. NIFC is comprised of 55 acres of area which contains areas for refurbishment of firefighting equipment, aircraft ramp operations, aircraft retardant tanker operations, as well as administrative functions serving the wildland fire mission. The campus is operated by the Bureau of Land Management (BLM) and follows Department of the Interior (DOI) and BLM rules and guidelines on sustainable management of facilities to include not only routine operations as well as improvements to the campus facilities. The BLM's goal is to serve the campus customers in a sustainable manner to create a healthy and energy efficient environment that reflects good stewardship of the public resources.
Get Directions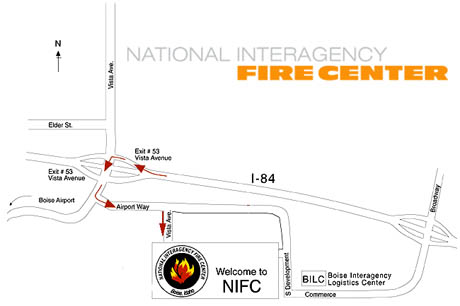 Places to Stay
The Boise area has many options for hotels. Please search online to find one that works best for your visit to NIFC.
What We Do
Routine Services
The facilities department is responsible for all operations, maintenance, and improvement on the NIFC campus.
Examples of these duties include:
Maintenance and operations of grounds 
Snow removal, deicing 
Lawn care and beds care to include shrubs and xeriscape 
Roads and all pedestrian hardscape 
Campus utility distribution systems 
Maintenance and operations of buildings to include preventative maintenance and improvements of:
Heating Ventilation & Air Conditioning (HVAC) systems 
Plumbing systems 
Electrical systems 
Life safety systems (fire protection, generators, reporting equipment) 
Access systems (Card readers) 
Conveyance systems (elevators, lifts) 
Fixed furnishings 
Roofing systems 
Building exterior 
Building interior 
Cleaning of buildings (5 days/week) 
Administer installation and replacement of:
Modular furniture systems 
Recycling services 
Energy management 
Solid waste disposal and recycling 
Disposal of surplus property 
NIFC Master Plan
The NIFC campus has a facility Master Plan which helps guide its future to be a more mission effective and space efficient campus. See the NIFC Campus Master Plan Executive Summary for further details.
Engineering
The NIFC campus engineering office provides engineering services to not only the NIFC campus community, but also to the BLM's Fire Administration program.
Environmental
The NIFC campus follows state and federal environmental regulations and Best Management Practices (BMP) as part of the stewardship of the public's resources. NIFC maintains both a Storm Water Pollution Prevention Plan (SWPPP) as well as a Spill Prevention Control and Countermeasures (SPCC) plan for the campus.
NIFC Space Management Program
The NIFC Space Management program provides analysis and logistical support to fire leadership for determining allocation of space resources for all agencies located on the NIFC campus. The BLM's role as owner-manager of the campus is to ensure compliance with the DOI space standards and life-safety codes, with a goal to efficiently meet the operational requirements of the resident agencies. All space use and modification requests are reviewed and approved by the NIFC Facilities and Maintenance department, which is responsible for start to finish management and fiscal year tracking of the program. A space request approval form is required for all changes and modifications.
Requesting new workspace or change in physical location 
Reconfiguring an existing office\cubicle space 
Purchasing office\cubicle modular furniture and accessories 
Facility renovations (infrastructure changes) 
Space configuration option drawings
*** Requesting agency is responsible for costs incurred.
How to Submit a Space Request
Download the NIFC Space Request Form 
Send it as an email attachment to blm_fa_workrequest@blm.gov 
You will be contacted by email and/or phone after review and approval of your request.
If you have additional questions, please email the Space Program Manager.
Sustainability
NIFC is home to nine separate federal and state agencies. However, the campus is operated by the BLM. The BLM ensures maximum effort is taken to insure good stewardship of our nation's resources. Sustainability, or the greening of facilities and operations, has received a lot of attention in recent years. It has become part of mainstream thinking throughout the planning, design and construction of the developed world. While this concept isn't new, we cannot overstate its importance or the urgency for action. In fact, by enhancing the sustainability of NIFC facilities and operations, we will also be supporting our primary mission. NIFC will benefit through long-term cost savings and the improved health and productivity of our employees.