How to Apply
The BLM Smokejumpers are seeking candidates to fill multiple job openings for the 2020 fire season. These positions may be filled as a temporary seasonal, career seasonal, or detail. Positions will be selected by March, 2020 with training beginning in April, 2020. To apply go to USAJOBS - The Federal Government's Official Jobs Site.
The application period for GS-5 and GS-6 smokejumper positions are currently open. Applications must be posted in USAJOBS no later than 11:59 p.m. Eastern Time on the closing date.
The primary purpose of these positions is to be trained to parachute from aircraft into rugged terrain to suppress wildfires as well as perform other fire support functions. These positions require previous wildland firefighting experience and Firefighter Type 1 (FFT1) qualification.
Hiring Process
Each year the BLM Boise Smokejumpers will receive hundreds of applications for five to ten job openings. A Human Resource Specialist surveys all applications for the first time to ensure that the minimum requirements have been met.
Applications are then surveyed to pick out information on criteria that will be used for selection. The next step is to contact the applicant by phone for an interview. In the interview, the applicant's experience level, physical fitness, and their reasons for applying are discussed in detail. Phone interviews with the applicant's supervisors are also conducted to find out about work attitude, work performance, ability to effectively work with others, and ability to deal with a variety of stress factors. Applications are then rated on the following criteria: 1) Length of Experience; 2) Quality of Experience; 3) Personal Interview; 4) Supervisor's Recommendations
The above list is not in order of weight or priority. Any of the criteria may add or detract from the overall rating. Offers of employment to selected applicants are made by using the criteria above. All applicants will receive notification of their hiring status as early as February 1st, or as late as the middle of April.
Requirements
Smokejumper positions are not entry-level firefighting positions.
Important: Rookie candidates are expected to have basic firefighting skills and working knowledge of fireline tactics before they are hired. Previous parachute training is neither required nor advantageous. If you lack the required fire experience, you may want to consider applying for a position on an Interagency Hotshot crew, fuels crew, district helicopter or engine crew. These crews receive valuable experience in fire suppression work. There are numerous crews located throughout the United States with the majority being in the West. For specific information, contact your local Job Service, BLM or Forest Service office, or browse for seasonal jobs online at www.usajobs.gov
Applicants are strongly encouraged to direct specific questions about rookie training or the application process to Ryan Swartz, Smokejumper Crew Supervisor at (208)387-5426 or (800) 925-8307.
Qualifications
Applicants must be at least 18 years of age and U.S.citizens. To qualify for a GS-05, applicants must meet at least one of the following:
Firefighter Type 1 (FFT1)

12 months of specialized experience equivalent to the GS-04 level duties;  OR

A 4-year course of study above high school leading to a bachelor's degree with either: a major study in forestry, range management or agriculture, or a major in a subject-matter field directly related to the position; or

At least 24 semester hours in any combination of the following courses: forestry, agriculture, crop or plant science, range management, watershed management, soil science, natural resources (except marine biology and oceanography), outdoor recreation management, civil or forest engineering, or wildland fire science. No more than six semester hours of mathematics is creditable; or a combination of education and experience that is directly related to the work of the position.
The Office of Personnel Management's (OPM) Qualification Standards (which lists the qualifications for this position and all other U.S. government positions and series) can be found in any federal government personnel office or on the OPM website.
Do You Have What It Take?
Service Oriented: The BLM Boise Smokejumpers is a service organization dedicated to performing with excellence every time we are called.
Self-reliance, Cooperation, teamwork: Smokejumping demands both self-reliance, when the mission calls for largely independent action, and teamwork. Smokejumpers must be able to cooperate with firefighters and others from a multitude of agencies and backgrounds.
Adaptability: Smokejumper candidates should realize that change, frequent travel, and uncertainty are part of the smokejumper job. Smokejumpers must adapt well to rapidly changing environments and situations, prolonged periods of intense fire activity, and periods of no fire activity.
Attitude: A positive, "can do" attitude is essential.
Physical Fitness: Smokejumper specific duties demand exemplary physical conditioning. Smokejumpers are required to maintain peak fitness due to the extreme physical demands of the job, all jumpers must be in excellent condition. It is not uncommon to construct fireline for 14 to 16 hours per day on a regular basis. Both strength and endurance are of the utmost importance. A medical examination is required for all first year smokejumpers.
Physical Training Requirements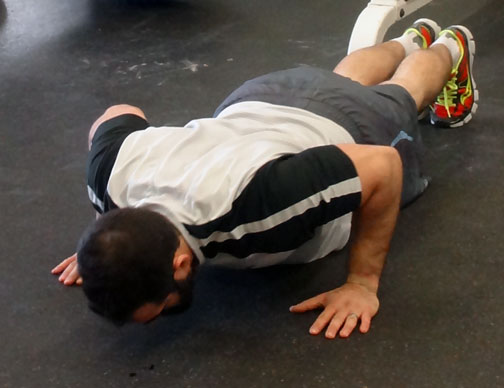 The physical training (PT) test is administered on the first day of rookie training. The OPM Physical Fitness Standards for smokejumping are as follows:
Run 1.5 miles in 10:47 minutes or less

6 pull-ups

30 push-ups

Pack 110 pounds on level terrain in 65 minutes or less
There is a maximum of five minutes rest between exercises. If you fail to complete the above tests you will be dropped from the program.
The BLM Smokejumpers have established target standards based off of the BLM Fitness Challenge:
Run 1.5 miles in 9:30 or run 3 miles in 22:30

10 pull-ups

60 sit-ups

35 push-ups

Pack 110 pounds on level terrain for 3 miles in 55 minutes or less.
The BLM Smokejumpers have recognized that these standards are often good indications of an individual's potential for successful completion of rookie training.